Rug Care
We've put together a comprehensive rug care guide using information from our different suppliers to cover every type of rug from delivery to long term maintenance. This information will specifically cover wool and cotton rugs from William Morris and Co, Orla Kiely, Harlequin, Wedgwood, Brink and Campman, Scion, Bluebellgray, Harlequin, Ted Baker, Sanderson, Florence Broadhurst, Linie Design, and Louis de Poortere, but will also be pertinent to viscose, silk, and leather rugs. It also covers care of sisal and other plant fibre rugs.
All our rugs are made with understanding and expertise. Either handmade by skilled craftsmen, or in a specialty manufacturing facility. They are finished with care and are quality checked before shipment. Each type of rug needs specific care to ensure a certain longevity. The following simple facts will help you understand your rug.
Purchasing a new rug is one of the easiest ways to freshen up the look and feel of your interior. Naturally you want an investment like this to last a long time, so here are some tips for maintenance to extend your rug's life.
ARRIVAL
SPROUTS
Loose fibres, or 'sprouts', are a normal part of the break-in process of handmade rugs. To remove sprouts from a cut or loop-pile carpet, use a small pair of scissors to cut them off level with the other pile. It is recommended to not pull the piles out, as this can cause other piles to loosen too. From a flatweave rug, use a thick (crochet) needle to tuck the loose pile back into the rug. Do not cut the pile from a flatweave rug to avoid breaking the structure.
CREASES
When your rug has been rolled or folded for shipping, it may include creases, however these should disappear within a week or two when the rug is laid out flat. Rolling the rug in a reversed way overnight will help. Making sure the humidity in the room is high enough (+/- 50-60%) will make decreasing the rug easier.
ODOUR
Smells are caused by dyes, yarns and shipping for long distances in sealed wrap, but most odours will vanish within a week once the rug is removed from its packaging.
SHEDDING
All cut pile wool rugs will shed. Shedding is caused by fibres in the yarn that are cut short and get detached from the pile. This will subside over time, depending on traffic and wear although the duration of shedding also varies per yarn type and is influenced by the humidity of the environment (humidity should be +/- 50-60%). A dry environment will cause more shedding.
COLOUR
No two rugs are the same. Slight colour variations are common for handmade rugs, as dye lots may slightly differ over a period of time.
SIZE
As rugs are a textile and therefore flexible product deviations of up to 5% in sizes are possible. Handmade rugs may vary in size slightly, as each piece is unique!
SHADING
Shading is an effect occurring due to the change of light reflection, which shows when the rug is subtly track marked. This is characteristic for most pile rugs and will reverse naturally during use.
MAINTENANCE
WEAR
It is highly recommended to rotate your rug 180 degrees every 3-6 months to balance appearance and to distribute wear evenly.
FADING
Rug colours typically fade over time when exposed to direct sunlight, even if they are fade resistant.
FRINGES
Your rug might have fringes. These are a part of the construction and appear at the ends of the rug in a decorative way to finish your rug. To keep them untangled you can comb or vacuum them. Adjusting the length of the fringes by cutting them is possible, always take care to not cut them too short, this can damage the backing irreversibly.
CLEANING
VACUUM
Canister vacuums without beater bars are the optimal type of vacuum cleaners to use. Brooms and manual sweepers are also a gentle and effective way to clean rugs.
Many of today's upright vacuums are super high powered. The high suction can pull out the threads from the back of a rug and cause "sprouts". Use the handheld attachment to vacuum your area rug whenever possible, and vacuum in the direction of the pile.
If you choose not to use (or are unable to) the handheld attachment on your upright vacuum, make sure to turn off the vacuum's beater bar. It can pull fibres from the face of the rug and cause the rug to fuzz. Alternatively, if the beater bar cannot be turned off, set it on the highest position possible before vacuuming.
Refrain from continuously running the vacuum over the edges with binding, as this will the loosen the fibres and cause them to detach.
Avoid running the vacuum over the fringes at the end of the rug as fraying may occur. Use the handheld attachment to clean the fringes.
If a rug is reversible make sure to vacuum both sides. This will remove grit and grime that can prematurely wear out your rug.
CLEANING
Clean spills immediately as once a stain is set, it becomes much more difficult to clean. In the event that you noticed a stain when it already set, James Rug & Fabric Stain Remover can help eliminate many stubborn stains.
Never rub a spill, as this forces the spill deeper into the rug. When a liquid spills on your rug or when your pet had an accident, try to dab the stain with a dry towel or cloth immediately.
To remove any remaining marks from your rug, use clean lukewarm water to dab the stain with
a clean towel. Take care the rug will not get too wet and avoid walking over the rug until it is
completely dry.
If your rug has viscose or silk fibres, never use too much water, only a damp cloth. Liquid will change the structure of the viscose piles irreversibly.
Salt is often mentioned to remove stains, and it does indeed extract moisture from a rug, but we strongly advise to only use the cloth as explained above to clean spills.
The use of bleach or chemicals to remove a coloured stain will also affect the colour of your rug, and an ugly, lighter stain will stay visible afterwards.
INDOOR / OUTDOOR RUGS
These are normally made of Polypropylene and recycled plastics (PET).
Vacuum with no beater bar/rotating brush. Spot clean with water, with mild detergent. The backing may get soft when the rug is wet, but this is common. Air or sun-dry the rug and backing to get it back to normal.
When the rug is cleaned or wet move it from the area and turn it upside down to dry the backing and the surface underneath as the water would go through the rug.
We advise to remove and/or flip the rug during wet weather as it may cause mold or reaction between the latex and wood alkalis.
The rug is water resistant and ideally should be dried upside down.
To extend the longevity of the rug we advise you to store it away during bad weather and winter months.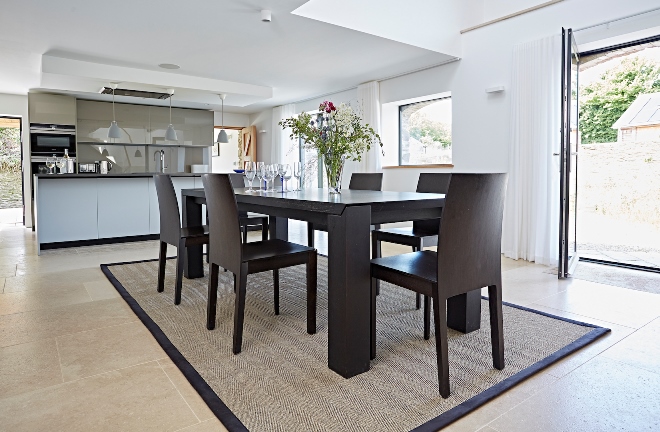 Sisal And Plant Fibre Rugs
Prevention is better than cure; we strongly recommend that natural fibre rugs should be treated with Intec stain protection for increased rug care.
The use of a barrier mat or door mat is always recommended at the entrance of premises to help reduce the amount of dirt walked into a room.
Vacuum your natural floorcovering regularly (at least two to three times a week) with a cylinder type vacuum cleaner i.e. suction only. The use of a beater bar is not recommended as this can damage the floor covering by pulling at the weft. Vacuum slowly and thoroughly. Continue to vacuum regularly.
We strongly advise against the use of traditional carpet cleaning products as these can permanently damage your rug.
For spot stains use kitchen towel to blot up the excess ASAP to prevent them from becoming permanent, and then apply a natural flooring specialist dry cleaning product by Host.
To Clean a Dry Spot: Place a small handful of Host cleaner over the spot. Using the special brush gently brush Host cleaner through the rug. Brush in all directions, north/south and east/west. Don't scrub, be patient; let the Host cleaner do the job. Leave to dry and then vacuum. Wash out the brush under warm water.
To Clean a Wet Spot: Blot the spot with a clean absorbent white towel or clean white paper cloth. Continue until no more liquid or colour transfers from the spot onto the cloth. Brush in a small amount of Host sponges carpet cleaner using the special brush. Brush in all directions as above and then sprinkle the area with an additional amount of Host sponges. Do not scrub; let the Host cleaner do the job. Let the host sponges rest on the area for ten minutes and then vacuum up the sponges. If traces of the spot remain, use the Host spot remover sparingly on a white towel and dab into the spot. Repeat steps 2 to 4 if necessary. Wash out the brush under warm water.
Natural floor coverings should never be steam or wet cleaned. Natural fibres such as sisal coir and seagrass contain natural colouring that is not colour fast and some colour loss can occur. Usually this is slight and much more acceptable than the spill or soiled area. If in any doubt carry out a test with Host in an inconspicuous area of the floor covering first. Occasionally, Host Sponges will have a bleaching effect on natural floor coverings if left to dry on the floor covering for more than 10 minutes.
We hope this rug care guide is helpful. Please contact us with any additional questions.