Lorena Canals Rug | Eco City Wheels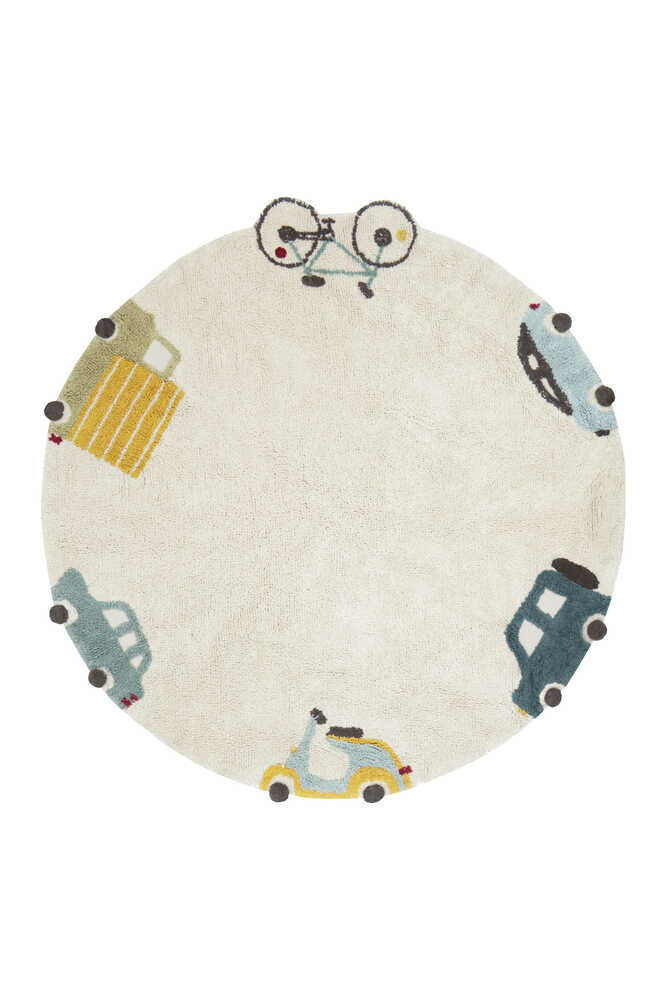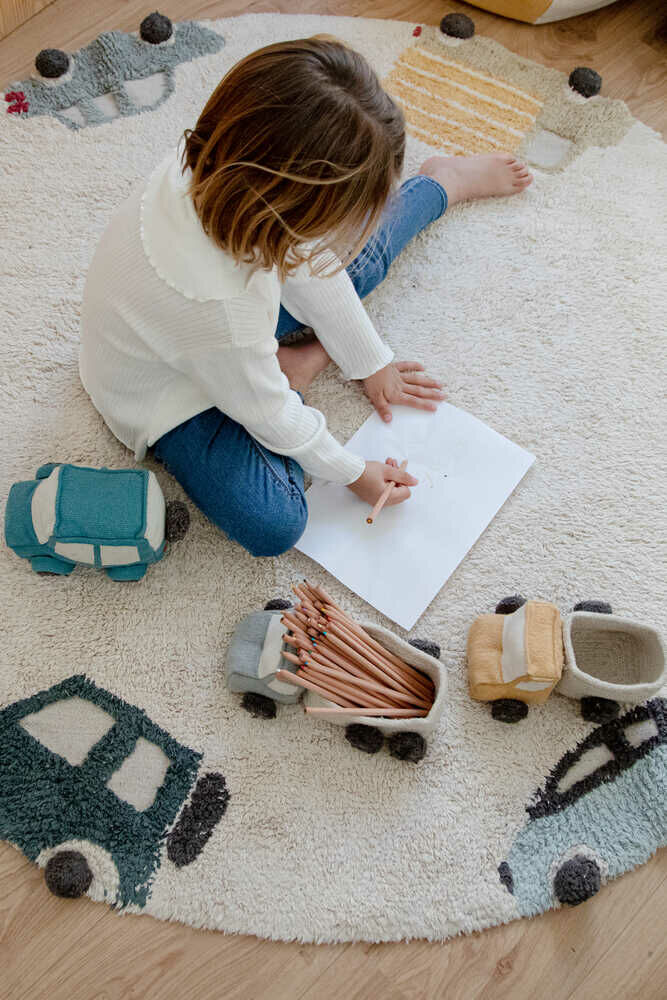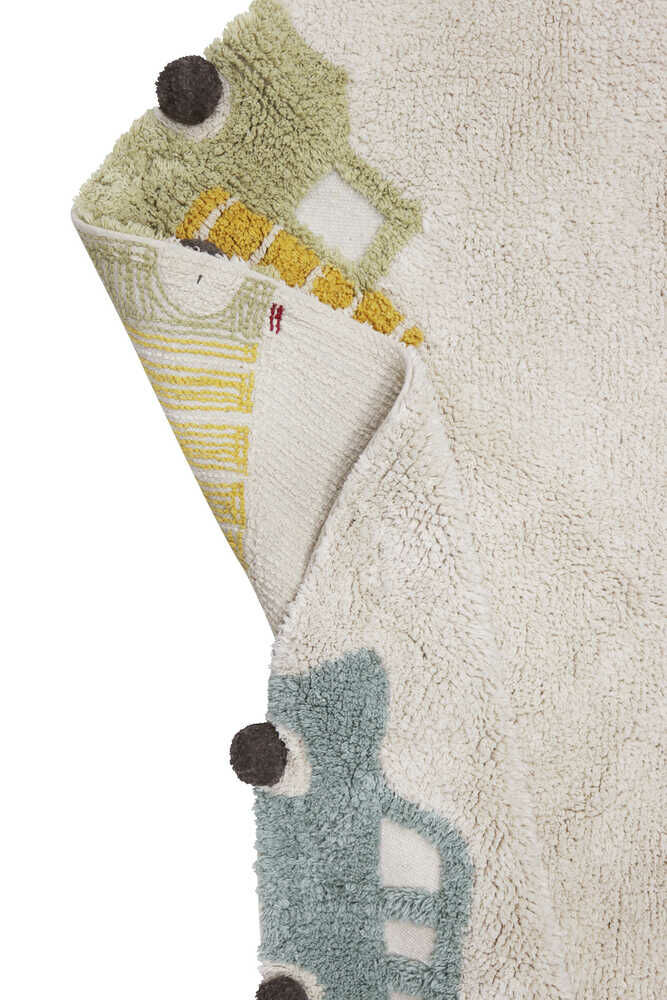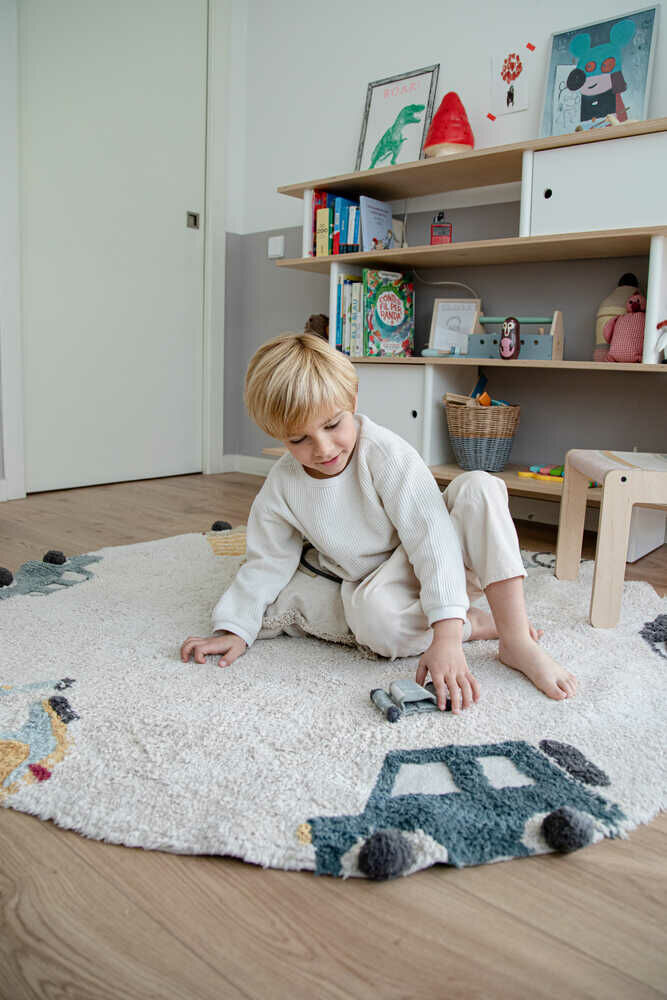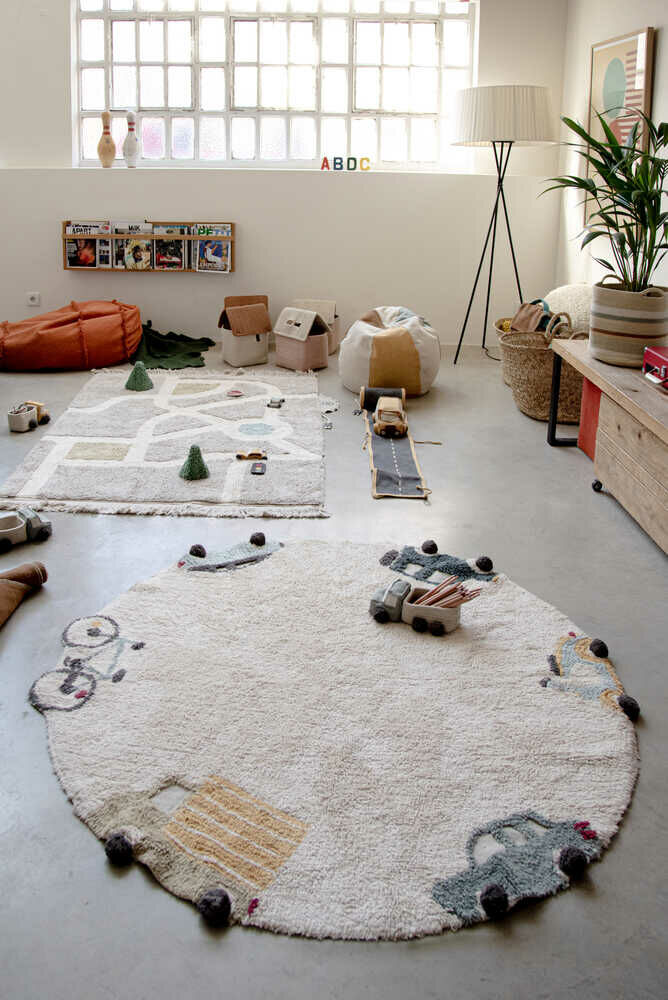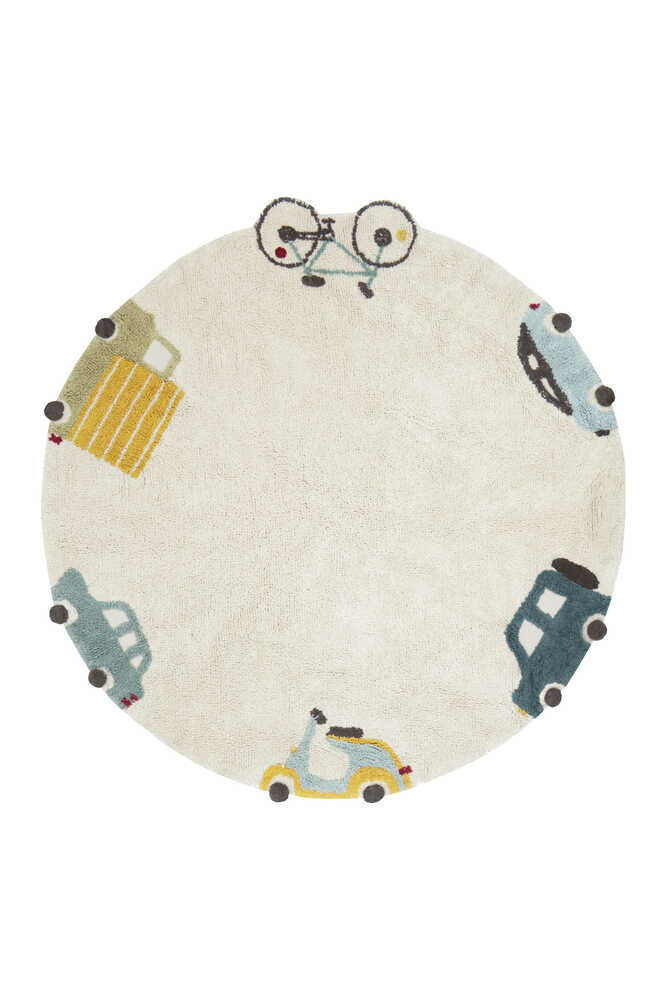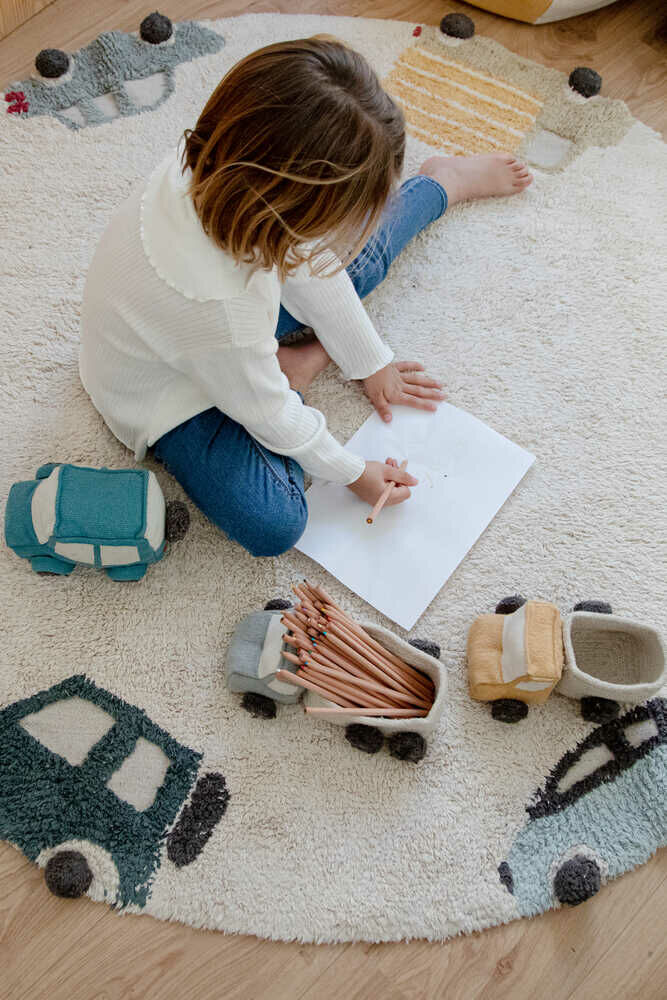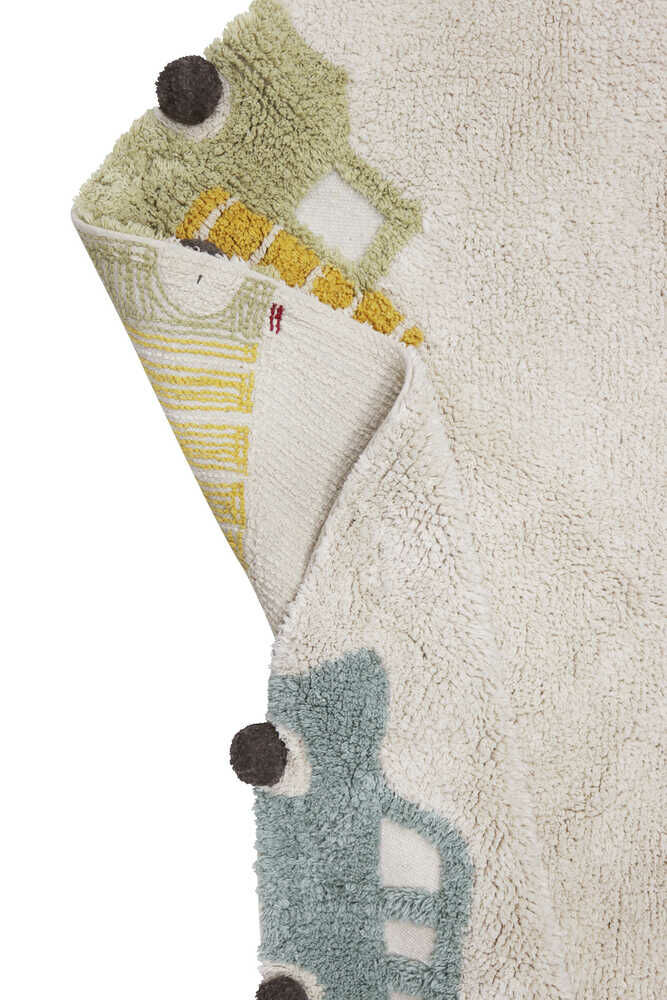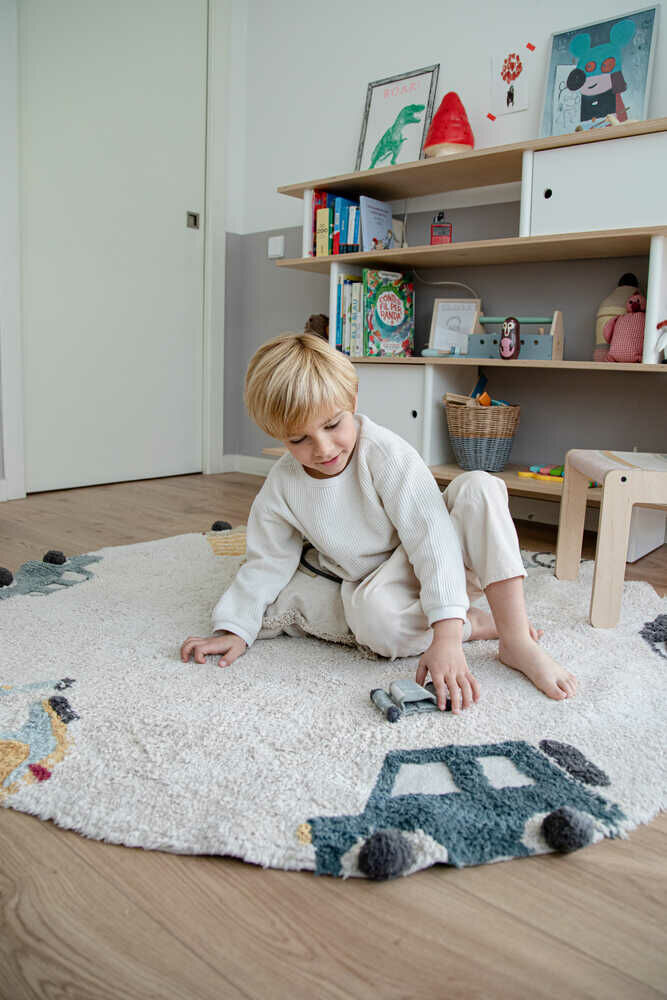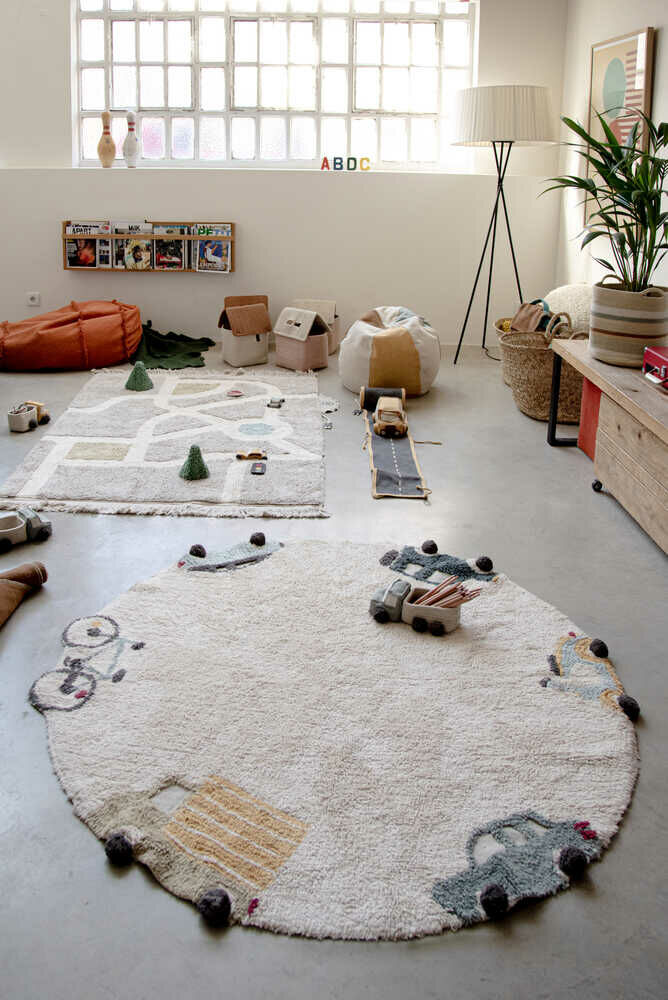 Lorena Canals Rug | Eco City Wheels
£129
4 in stock
Eco City Wheels, a round washable rug in a natural colour cotton decorated with e-cars, a truck, a bicycle, and an electric motorcycle. Machine washable and traditionally made, one by one, using natural cotton and nontoxic dyes.
Size: 140cm Diameter
Delivery in 10-14 days
Product Description
Eco City Wheels from the innovative Spanish rug designer Lorena Canals, a round washable rug in a natural colour cotton decorated with e-cars, a truck, a bicycle, and an electric motorcycle.
All e-vehicles feature a dark red spot to symbolize the battery charger.
The wheels pop out as small, dark grey cotton pom-poms.
The whole surface of the rug is tufted in a soft cut-pile, except the car windows that reveal the cotton canvas base.
Our collection of Lorena Canals machine washable rugs are handmade from natural cotton.
Designed in Spain, Lorena Canals are a family business that monitors the whole manufacturing process. They select the best cotton quality and dye the rug with natural dyes only – toxic dyes, contaminants or chemical fixing for the colours are never used.
They are perfect for decorating children's rooms – they are practical, easy to combine, pleasant to the touch, cool in summer and warm in winter, and machine washable in a standard domestic washing machine. Being natural cotton and washable will also benefit children with allergy problems.
A handmade and carefully designed product. Each piece is unique, hence there may be small variations in colour and shape.
Lorena Canals Rug Eco City Wheels complies with all quality and safety regulations for children. ISO 9001, ISO 14001, ISO 18001 and AITEX certified.
Washing Instructions
Machine washable, but please check load limit first. Wash separately using a delicate, 30ºC program without whitening.
Use a mild detergent, and do not use softeners.
Select low centrifuge speed if the rug has braids, fringes or pom poms. Do not leave the wet rug in the washer, as colours may run or stain.
Tumble dry at low temperature.
Avoid drying in the sun.
Don't worry if lint appears, as this is residue fibre produced from cutting the cotton. During the first few days, it is advisable to sweep the rug with a hard brush in the direction of the plush, and then it is recommended to use the vacuum cleaner. We do not recommend the use of robot vacuum cleaners.
Should you find any long or loose threads, cut these using a pair of scissors. Never pull a thread.
Keep away from fire.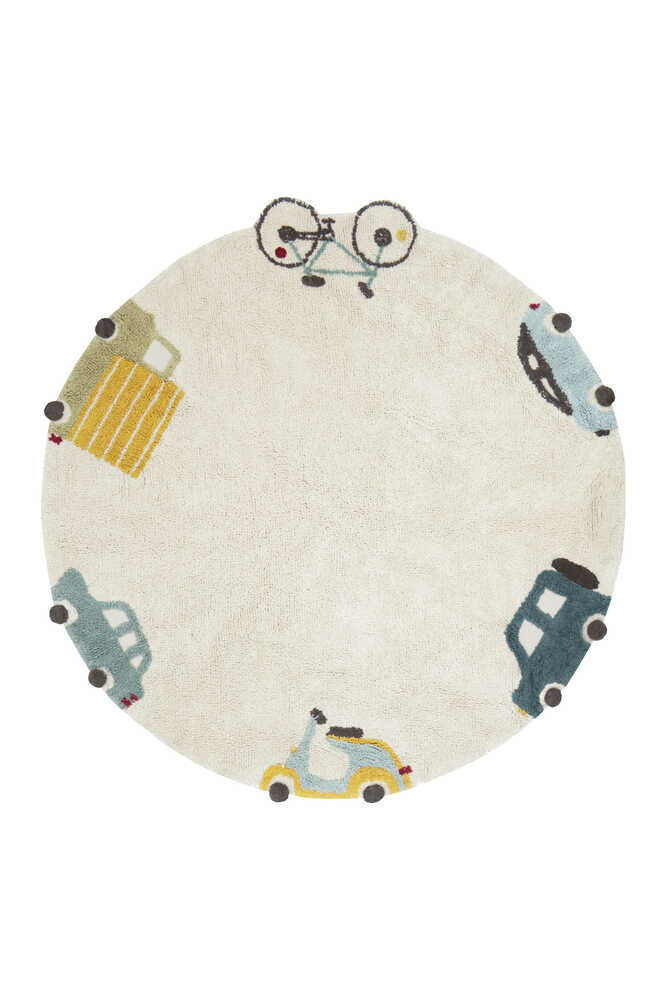 Free Express Delivery
Next day delivery on selected ranges
Easy Returns
Easy returns & free exchanges
Who are Heugah Interiors?
We're a family business in the Cotswolds. We will personally manage your order progress and handle any queries or problems. There's no chatbots or offshore call centres! Our goal is to give you the level of service that we would expect ourselves.
I'm not sure of the colour?
For our most popular ranges we have samples that can be ordered for a £15 deposit, refundable on return. See the section on samples for more info.
I've ordered the wrong size - can I exchange?
Yes, we can arrange to collect the first item when the second is delivered and there is no charge for the return if the rug is under 280cm wide. See Returns below for more information.
Will returning a rug be expensive?
Normally yes, but for most rugs we can help by arranging a collection using our courier account. The cost depends on the rug width and starts at £20. See Returns below for more information.
When will my order be delivered?
Every size of every rug should have the expected delivery time displayed. Contact us for more info if not.
Do you price match?
Yes we do! If you've found the item cheaper with another retailer we should be able to match this price – and even better it by £5! Simply call us with the details of the website with the product or send us a link to the page. There's more details on our Price Match page below.
The delivery time is more than 2 months away - do I have to pay in full now?
No, we can take a deposit payment now and the balance when the rug is ready for despatch. This will guarantee any promotion price and also stock availability from the next delivery.
Do you deliver outside of the UK?
Yes, we deliver worldwide! Shipping prices change regularly - contact us for an exact quote and indication of customs duties.
Our web prices include UK VAT at 20% which is not applicable for non UK deliveries.  Contact us for more info on refunding or removing VAT.
How do I care for my item?
We've prepared a care guide on what to expect when the rug arrives, and with information and tips to keep it looking great for as long as possible. Please get in touch if you have any other questions.
You have not viewed any product yet.
You have not viewed any product yet.